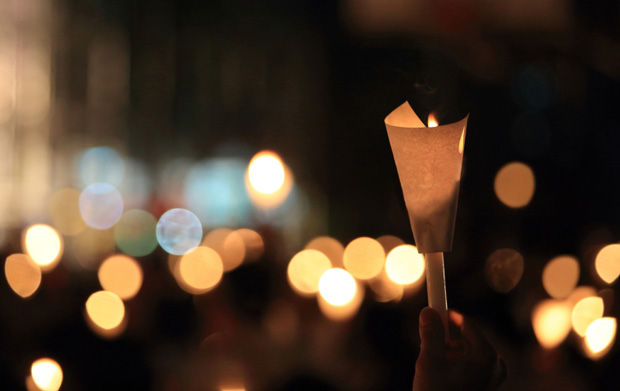 Following the suicide death of one of its football players, The Ohio State University issued this statement to the news media:
            "The Ohio State University Department of Athletics was shocked and saddened to learn today of the death of student-athlete Kosta Karageorge, a senior from Columbus. Our thoughts and prayers are with the Karageorge family, and those who knew him, during this most difficult time."
This tragedy and the communication that followed are reminders of the importance of communicating empathy, but doing so appropriately and effectively. In our view, Ohio State succeeded with the first objective, but failed in the second.
One of the most challenging tasks we face when working with clients during our media training sessions is getting them to express empathy, concern or compassion when the event or issue demands it. For example, if the scenario we're using involves injuries, fatalities, environmental damage or even inconvenience (evacuations, road closures, etc.), we expect the spokesperson to communicate empathy during the interview, press briefing or news conference. That doesn't always happen.
Sometimes it's because the spokesperson is focused only on the facts – what happened, where, when, why, who, how. Sometimes the spokesperson's background is a contributing factor. For example, technical training tends to suppress expressions of empathy. (Engineers and other people with technical backgrounds tend to focus more on analytical content rather than emotional content.) Also, gender plays a role; men are less likely to express emotion than women are. (It's not that men do not care; it's that they are less likely to express that feeling.) And then there are people who think that others will be able to infer that they care (through tone, demeanor, etc.) when, in fact, they need to communicate directly, not indirectly.
So why is it important to express empathy when talking to reporters?
The overriding goal of any communication is to establish trust. If people don't see you as trustworthy, you won't get your message across or get it across completely. Trust, credibility or believability is influenced by several factors. But the most important is empathy or caring which accounts for half of a person's credibility. It's assessed in the first thirty seconds, and there are no degrees of empathy; people judge you to be either empathetic or not.
When talking to reporters, you want them and their viewers, listeners and readers to trust you (and by extension, your organization). One of the best ways to do that – to put a human face on your company – is to make an emotional connection. You do that by expressing empathy.
Back to Ohio State. It did express empathy, but not well.
The statement it issued to the media is cliché-ridden. We've heard many of those words and expressions (e.g., "shocked and saddened," "thoughts and prayers," "most difficult time") so often, they've become meaningless. The statement is terse and does not sound heartfelt. It sounds cold and clinical.
Here's a possible re-write: "Today, the Department of Athletics at The Ohio State University learned of the death of Kosta Karageorge, one of our student athletes. Kosta was from Columbus and played football at OSU. Head football coach Urban Meyer described the defensive tackle as a respected and valuable member of the team. Meyer said the team wants to honor Kosta by wearing his number on their jerseys for the remainder of the season, and of course that will happen. Coach Meyer said, 'We can only imagine how Kosta's family and friends must feel, and we are thinking about them and praying for them'."
Some final advice when expressing empathy: Make sure that the sound and speed of your spokesperson's words of empathy differ from the rest of what's said to the media. And if the spokesperson is reading a prepared statement, he or she should look up at the reporter at the point when expressing concern, and speak those words from the heart rather than reading them verbatim.